Vile
Romaji
Baba
Japanese
VAVA
Origin
Mega Man X (1993)
Alias
VAVA Fett
Type
Reploid / Maverick
Role
Villain
Home World
Earth
Weapon
Various, including a shoulder mounted cannon
Attribute
Various
Status
Resurrected
English Voice
Roger Rhodes
Japanese Voice
Hiroshi Shimozaki
Vile / VAVA
is a violently insane Reploid who used to be a member of the Maverick Hunters and was ranked S-A Class in
Sigma's
17th Elite Unit prior to his commander's rebellion against humanity. He also has a severe hatred for Mega Man X.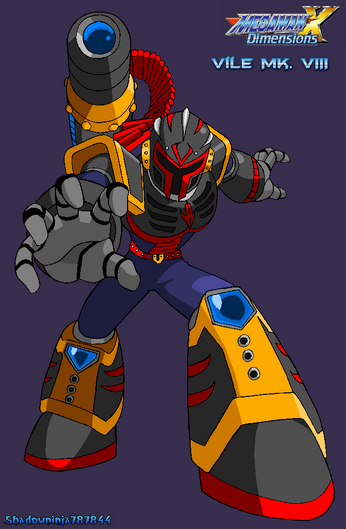 Trivia
Vile's physical appearance in the Mega Man X games was styled after Boba Fett from Star Wars. His name, however, was actually derived from Bubba Zanetti from Mad Max.
Vile's new appearance in Superhero Keyblade Wars takes on physical traits from Jagi from Fist of the North Star, with a color scheme inspired by the Marvel villain Crossbones. Fittingly, both Vile and Jagi are insane criminals who have a serious grudge against Mega Man X and Kenshiro respectively. They even both have a large fat guy for a bodyguard.
Community content is available under
CC-BY-SA
unless otherwise noted.