Tsubasamaru
Origin
Ninja Sentai Kakuranger (1994)
Alias
White Falconzord, Falcon Ninjazord, Ninja Falconzord,
Type
Robot / Holy Stealth Beast
Role
Summon
Home World
Earth
Family
Muteki Shogun (fellow God General), Kakure DaiShogun (fellow God General)
Weapon
Wing Rockets
Attribute
Kakure Ninpo: Heart
Status
Alive
Tsubasamaru
is one of the Three God Generals that guide the Kakurangers in their battle against
Daimao's
Yokai Army.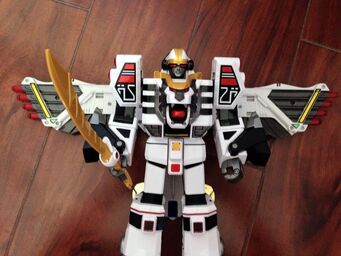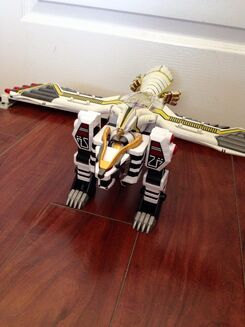 Combinations
Super Muteki Shogun- Tsubasamaru attaches to Muteki Shogun's back, fitting its wings between his arms and shoulders to give him intense firepower.
Super Kakure DaiShogun- Tsubasamaru attaches to Kakure DaiShogun's back to give him flight capability
Tsubasa Kibamaru- Tsubasamaru attaches to Won Tiger's back to give it flight capability, and a new finisher called Super Star Blast. This combinations works for both Won Tiger's Warrior and Chi Beast Mode.
Community content is available under
CC-BY-SA
unless otherwise noted.