This article, The Shards, is the creative property of ZACH.
The Shards are enemies in Kingdom Hearts The Data Book. The Shards are Nobodies that attack in groups. There are five kinds of Shards: Fire, Water, Cure, Night, and Omega Shards. The last known Shard is the Data Shard.
Types of Shards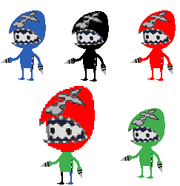 Fire Shard
The Fire Shard is a red Dusk that only uses Fire. It likes hot places and only lives where there is fire. If there is ever fire in the environment, there are likely also Fire Shards in the area. The Fire Shard is known to attack head-on, and is very easy to dodge. Their only attacks are Fire Wall, Fireball, and Fire Bullet.
Water Shard
The Water Shard is a blue Dusk that only uses Water which lives near water. Water Shards can move in the water, but it is easy to see them due to their size and speed. They can extend their arms out very far by using nearby water as an extension of their own arms, as long as there is water nearby.
Cure Shard
The Cure Shard is a green Dusk that utilizes the element of Cure. During battle, it stays far from the player, healing its allies. Because of this, it should be taken out first. Cure Shards hide in high places or behind naturally green elements, where they blend into it. The Cure Shard can heal other Shards, but not itself.
Night Shard
The Night Shard is a black Dusk. They are the most basic Shard, and only appear at night in large packs. Night Shards can fade into the shadows and move without being seen through the water and land, much like the Shadow Heartless. It is difficult to attack a Night Shard while it is in the form.
Omega Shard
The Omega Shard is the largest of the five Shards, and is made of parts of the other four. It has a leg from the Water and Night Shards, the head of a Fire Shard, and body and arms of a Cure Shard. Because of this, it is capable of using all of their abilites, making it the strongest of the five. The Omega Shard is only fought after Part 2 of Kingdom Hearts The Data Book. They are great for powerleveling, as long as you can beat one.
Community content is available under
CC-BY-SA
unless otherwise noted.