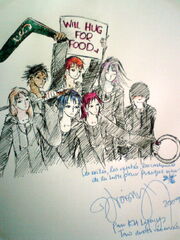 The Exiled (亡命中, Bōmei-chū) are a group of Nobodies in Kingdom Hearts Legacy, thrown out of Lord Kami's Disciples for trying to stop Lord Kami's plans. They are either on the move or seeking refuge in secluded places, since Lord Kami wants them dead.
The members of The Exiled are stated below, along with their reason for being exiled.
Members
Seclusion
The Exiled Disciples are spread across all the worlds hiding from Lord Kami. They all are waiting for the day they can unite. Their leader is the main key. Once he appears and once the time is right, the Exiled wish to pounce on their former master. The only one Kami knows the whereabouts of is Xotan. Being the most boisterous of the group he lets his presence be known. Xotan takes refuge in The Land of Dragons, where he is most at home.
Community content is available under
CC-BY-SA
unless otherwise noted.