Saint Kaiser
Origin
Mahou Sentai Magiranger (2005)
Alias
Phoenix Unizord
Type
Magi Majuu / Robot
Role
Summon
Home World
Magitopia
Other residences
Earth
Weapon
Unicorn Lancer
Attribute
Light, Fire
Status
Alive
Japanese Voice
Atsushi Hashimoto
Saint Kaiser
is a robot of the Magirangers.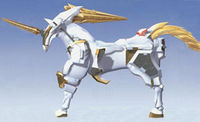 Components
Unigolon- A dimension hopping Unicorn Majuu that forms the majority of Saint Kaiser, including the head and Horn Lancer.
Saint Magi Phoenix- Powered up version of Magi Phoenix with gold armor. He can ride on Unigolon, or combine with it to form SaintKentauros.
Community content is available under
CC-BY-SA
unless otherwise noted.