Remorse Unfathomed
(ヒアイ キリノナイ Hiai Kirinonai)
"A Keyblade of Darkness and grief. It has no love and no mercy."
Strength
Magic
Varies
Varies
Wielder
Cleopatra Endellion DeBuio
Ability
Unknown
Obtained
Unobtainable
Remorse Unfathomed is a weapon wielded by Cleopatra Endellion DeBuio. It is a Keyblade made of Darkness, and it has no Keychain.
Design
Remorse Unfathomed has a long shaft which ends in a spike like the spikes of a Nobody Sigil. At its end, it has a blue demon eye, like on the Soul Eater and Master Xehanort's Keyblade. The hilt is curved slightly at its end, and the crossguard has two halves; one half is part of the Unversed Sigil, while the other half is part of the symbol for Kingdom Hearts. Its teeth are also archaic-looking spikes like those of a Nobody Sigil. While the blade is white, the handle is brown, and the Kingdom Hearts half of the guard is blue.
Abilities
As Cleo grows stronger, the abilities of her Keyblade seem to change. Indeed, it may have started with Defender like any other default Keyblade, but once faced in Enchanted Dominion, it seems to have changed its ability completely.
Gallery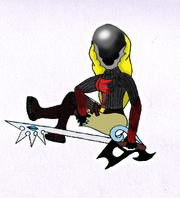 Community content is available under
CC-BY-SA
unless otherwise noted.