This article, Oswald the Lucky Rabbit (KH: F), is the creative property of Harold Roxby.
Oswald the Lucky Rabbit
is
King Mickey's
older Brother. Unlike in EoKH,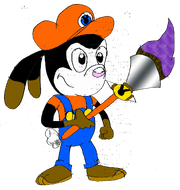 he didn't sent himself to exhile after giving up his life as the King of
Disney Castle
; In fact, after he decided to step down and lent his crown to Mickey Mouse (because Disney Castle Monarchy wasn't his thing), he made a choice on working with
Prof. Ludwig Von Drake
as his Intern, Mechanic and personal assistant in Cid Highwind's Workshop. He is still married to 
Ortensia Sadie Whiskers
 and is a wonderful father of a lot of
Bunny Children
. The oldest is his Blue Teenage Lagomorphic daughter
Olivera the Rabbit
.
First debute
His first debute was in Trolley Troubles in the year 1927.
Rivals
J. P. Whiskers
Brawley the Bear
Pete
Phantom Blot Industries
Worlds of Change
Ostown = His own Classic form
Monstropolis = Werewolf
Rapunzel's Kingdom = Chameleon
Pride Lands = Cobra
Sunnyside = Stuffed Rabbit (not food, but a toy)
Radiator Springs = Rabbit Car
Mushroom Kingdom = Toad
Mobius = Crocodile
Nottingham = Robber
Man Village = Bangel Tiger
Petropolis = Brid
Ant Island = Pray Mantus
Land of Dragons = Chinese Rabbit Soilder
Equestrila = Alicron (His Cutie Mark is A Oswald The Luckey Rabbit's Classic Face)
Minecraftia = Pig from minecraft
Kitcken = A Rabbit Meat
Dimmsdale = Fairy Bunny
RV = Uncle Grandpa Styled Rabbit
Elmore = His Own Classic form in a Goofy Meme Looks
Dansville = Human
Valley of Peace = Chinese Rabbit Warrior
Despicble City = Rabbit Minion
Far Far Away The Kingdom = Realistic Rabbit, Talks Like himself
Bikini Bottom = Mer-Rabbit
The Park = Raccoon Just Like Rigby The Raccoon
Land of Ooo = Banana Graud
Hyrlue = Himself in Link's Clothes
Dreamland = Waddle Dee Rabbit
Poke'World = Pikachu or Raichu
Looney Tunesville/ Warner Bros. Stuideos = Warner Bros.'s Rabbit Just Like Bugs Bunny
Fair City = SuperHero like Alienorind Human
20XX 20XZ = Proto Man of Himself
Planet Nakem = Sayin
Hokan = Ninja Rabbit
Ferdal Japan = Cat,Dog & Rabbit Mix up togethered Human Warrior
Metrosville = Astro Rabbit (Helper of Astro Boy)
Kimba the White  Lion's Jungly Kingdom of The Jungle = Hedgehog
Wild Woods = Rabbit in Paws & Tales:A Antimated Series Style
Panda's Side of a Mountainish Chinese Valley = Rabbit in  a Skunk Fu! Style
Allidale = Rabbit Snowman
Perhistoric Age (Good Dinosuar World) = Cave-Rabbit
South Park = Rabbit in a South Park Style
Quahog = Family Guy Style of Himself
Kong Island/King K.Rool's Ship = Apey Rabbit
Weaponry
His own version of Bowser Jr.'s paintbrush which he named "The Painthinnerator". (Don't ask, Von Drake helped him with that weapon.)
Abilities
Paint Shot
Thinner Shot
Copter Flight (like in Epic Mikey 2)
Karate Kick
Karate Punch
Remote Shock (shoots electricity)
Voice Actor
Frank Welker still makes a good voice of Oswald, because he did in Epic Mickey 2.
Community content is available under
CC-BY-SA
unless otherwise noted.