This article, Ortensia the Cat (KH: F), is the creative property of Harold Roxby.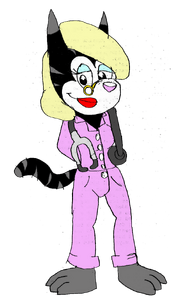 Dr. Ortensia Sadie Sagebump-Whiskers is Oswald's wife in Kingdom Hearts: Forever, mother of Olivera the Rabbit and Head Doctor of the Disney Castle Mental Institute. She was also the loathed daughter of the Nobody named J. P. Whiskers who currently turned to Organization XIII because of Ortensia's marriage with Oswald (he hates him for his clumsiness, noise and too much romance with her). Brawlie the Bear (the other Nobody) was hired as his partner against Ortensia's wishes.
Origin
She was born to Disney Wizards Candace and Kevin Sagebump, but they were killed by the Organization XIII. After 2 years in the Orphanage she was adopted by J. P. and Denise Whiskers. The first time she met Oswald was in the Episode 'Sky Scrapers' in later than 1901 A.D. along with Brawlie the Bear.
The Motherly figure
After Max Goof brought the Unconscious Kim Possible to the Hospital Bed, she with a help from her Husband gave Kim a mechanical surgery. When it was over after Kim woke up, Ortensia behaves like a motherly figure to her after Dr. Jane Possible disowned Kim..
Voice Actress
Audrey Wasilewski made a good voice of her in Epic Mickey 2: Power of Two, so maybe She'll voice her if Kingdom Hearts: Forever becomes an Anime on Youtube.
Community content is available under
CC-BY-SA
unless otherwise noted.