This article, Olivera the Rabbit, is the creative property of Harold Roxby.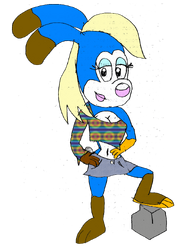 Olivera the Rabbit
 is
Ortensia
 and
Oswald's
19-year-old daughter and the one & the Eldest of Oswald's
bunny children
. She also works as a spy of the '
Knights of the Mouse Table
' (a Group of Keybladers, Keywandoliers, Keygunners and other heroic somebodies where she, 
Max
,
Goofy
,
Racs
, 
Mickey
,
Kim
,
Donald
,
Oswald
,
Moddie
,
Elmer
,
Yen Sid
,
Leon
, and
Sora
participate). She also has a severe crush on Sora, but he wasn't interested in the relationship because he doesn't wanna tick off
Kairi
. . . nor his mother. She can also be a Manizer as she can "play Patty-Cake" with any man in Traverse Town as she pleases.
Worlds of Change
De Vil Manor = French Poodle
Highland, Ca = Human
Hair Tower = Falcoln
Mobius = Gizoid
Mushroom Kingdom = Koopa Troopa
Jon Arbuckle's Neighborhood = French Poodle
Notre Dame = Gypsy
Jungle of Rhythm = Toucan
Monstropolis = Camouflage Dragon (like Randall Boggs)
Pride Rock = Lioness
Rio, Brazil = Bule Marca
Ostown = Her own Classic form Wearing a diaper Over a Sexy Lady's Red Skinny Dress
Nottingham = Princess Wolf
Ant Island = Moth
San Franisco, CA , The Tanner House = Realistical Human
Never land = French Poodle Outfit
RV = Littlest Youngest 2-Year Old Girl
Wonderland = Queen of Hearts Rabbit
Voice Actress
Weaponry
Her Duo of Glatling Keys and her Gadgets.
Abilities
Karate Technique
Community content is available under
CC-BY-SA
unless otherwise noted.