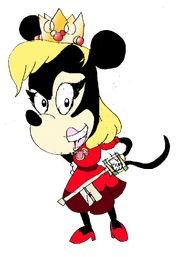 Princess Monica Mouse
(also known as either 
Maude
or 
Moddie
) is Princess of the
Disney Castle
, Daughter of
Mickey
& Minnie, and
Elmer Mouse
's younger sister in the Fan Comic Book,
Kingdom Hearts: Forever
. P.J. even has a crush on her, but Moddie, Elmer, Minnie and Mickey don't approve of P.J.'s Crush on her because Moddie knew he was the son of
Pete
.
First Debute
Her first debute is in the upcoming Youtube Series, Amy Rose: The Movie, where Amy Rose entered Traverse Town on her way of searching for a game she really belongs because Sonic the Hedgehog told Amy that She doesn't belong in the Sonic Games and accused her of stealing the Damsel role from Princess Sally Acorn since Sonic CD. Irritated after her father said that she and he have to meet Amy in Traverse Town Square (because she doesn't like leaving the Disney Castle due to the fact that there's Danger outside.) she agrees to go with him (not that she was but she thinks she had no choice.
Worlds-Of-Change Forms
Monstropolis = Vampire
Radiator Springs = Red Porsche
Sunnyside Daycare = Teddy Bear
Bikini Bottom = Diver (like Sandy Cheeks)
Repunzel's Kingdom = Dove
Pride Lands = Hornbill
Man Village = Lioness
Mushroom Kingdom = Yoshi
Sugar Rush = Nicelander
Mobius = (1st visit = Herself as Normal & 2nt Visit = Mobius Hedgehog)
Weaponry
Her Rifle Key, which is a resemblance of both the Kingdom Key and Leon's Gunblade.
Abilities
Bullet Blast
Keyblade Slash
Fiery Blizzard
Revival Gas
Restore Thunder
Voice Actress
I think Debby Ryan makes a great voice actress due to Moddie and Baily from Suite Life on Deck have blonde hair.
Community content is available under
CC-BY-SA
unless otherwise noted.