This article, Max Goof (KH: F), is the creative property of Harold Roxby.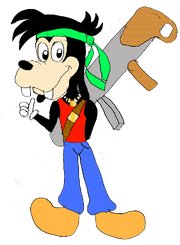 George Maximillian "Maximum" Goof, Jr. (known as "Max") Is the young adult Guerilla of the Knights of the Mouse Table and Husband of one of the Court Wizards Roxanne. He is also the Son of George Goof, Sr. (known as "Goofy"). He was once good friends with P. J. since Goof Troop, until Max found out that P.J.'s dad was a Villain since Steamboat Willy straight from Moddie, Mickey's Daughter. Also, as a kid, his mother, Penny, was killed in the car accident after the Phantom Blot tipped over the can of thinner all over the middle of the Road. Max was even outraged at the Young Adult years because of the Blot.
Worlds of Change
Monstropolis = Werewolf
Halloween Town = Werewolf
Marlin's Ocean = Hammer Head
Jungle Rhythm = Leopard
Pride Land = Hedgehog
Mobius = Mobian Hedgehog
sunnydale = Stuffed animal
Equestrila = Pony (Cutie Mark = Goofy Face)
Weaponry
Bazoo Key
Abilities
Karate Techniqes
Voice Actor
Tony Samson or some guy who did the voice of him in The Goofy Movie.
Community content is available under
CC-BY-SA
unless otherwise noted.