This article, Lotso (KH: F), is the creative property of Harold Roxby.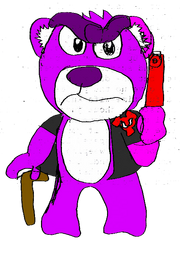 Lotso Huggin Bear
may have been defeated in
Toy Story 3
, but not dead as he was
rescued by
Nevel
after trying to fall into lava at the dump and currently one of the
Phantom Blot's
Minions.
Worlds of Change
Ostown = Epic Mickey style Bear
Pride Land = Cheetah
Sunnycide = Teddy Bear
Mobius = Grizzly Bear
Man-Village = Boa with Teeth
Land of Dragons = Hun of Shan Yu
Weaponry
His cane and some squirt gun filled with thinner
Abilities
Punch
Cane Slap
Thinner Blast
Jump
Voice Actor
Ned Beatty like in Toy Story 3.
Community content is available under
CC-BY-SA
unless otherwise noted.