This article, Kim Possible (KH: F), is the creative property of Harold Roxby.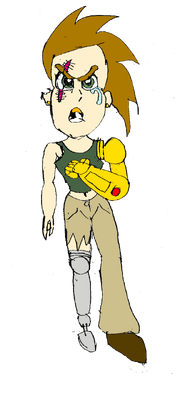 Kimberly Ann Possible, Kim Possible for Short, Was 16 at the time she became a Secret Spy she is one of the Outcasts of Middleton, along with her nemeses Shego and Dr. Drakken .
Story
It started the first Episode of Kingdom Hearts: Forever where Medical assistants James P. Sullivan & Michael Wazowski carries the poor, near dead 18-Year-Old Outcast of Middleton Kim Possible into the Royal Mental Hospital in the Disney Castle, placing her on one of Dr. Whiskers' hospital beds after Kim Got beaten up by the Middleton Police for the Murder she didn't commit and banished from Middleton by her Mom after Jane Possible Disowned her (instead of Grounding her). Ortensia with a help from her husband Oswald gave Kim Possible a mechanical surgery. And when Kim got up, she figured out that she's not in Middleton anymore. When Ortensia asked her who was Murdered in Middleton, Kim told her that it was Ron Stoppable, Ron's Parents, Her dad and Rufus the Naked Molerat. But when Ortensia asked who killed them, Kim Possible finally told her it was the Duo from Phantom Blot Industries named Nevel and Deathiko, but Kim also told Ortensia that she tried to explain it to her mom but her mother won't believe her.
Weaponry
Her Rifle Arm and her Gadgets
Abilities
Karate Techniques
Voice Actoress
I prefer that Selena Gomez makes a Perfect voice for her.
Community content is available under
CC-BY-SA
unless otherwise noted.