This article, Jeane Possible, is the creative property of Harold Roxby.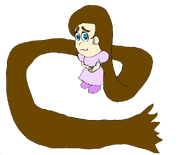 Jeane Rider-Possible, 2-year-old Daughter of Rapunzel and Flynn, felt horrid over her father's death. But she didn't want her Grandparents killed though her mom's split personal figure didn't listlen so she casted Jean out of the Kingom wherever Randall needs to kill her. When Kim discovered Randall who is about to kill Jeane at the Mental Hospital, Kim runs towards Randall and beat the living heck out of him just to save Jeane's life, totally knocking him out (you should never treat children like crap; that's the law). So then Kim decided to buy a house in Traverse Town to raise her as her daughter.
Worlds of Change
Sugar Rush = Nicelander
Mobius = Zeti
Mushroom Kingdom = Littlest Toadette
Pride Lands = Hedgehog-1st to 10th Visit & Lioness-11th To 20th Visit
Jungle of Rythem = Tiger
Ant Island = Ant
Monstropils = 2 Secord Year Old Girl
Nottingham = Flea Girl
Despicble City = Teenage Girl
Middleton = Human
Jump City = All Powered Hero of The Teen Titans
Bethlehem = Animated Cat
Bikini Bottom = Jellyfish 
Fermgully = Blutterfly Winged Fairy
Retroville = 3D-Self
Highland, CA = Diapered Human
Abilities
Hair Hammer
Hair Whip
Hair Punch
Hair Chopper
Weaponry
Like her mother, Jeane has long Magic hair.
Voice Actress
Tara Strong, Like Ariel.
Trivia
Community content is available under
CC-BY-SA
unless otherwise noted.