Hellbat

Stats

HP

15

EXP

15

Attack

3

Defense

15-20

Magic

1

Level

Varies

Resistances

Attack

Fire

Blizzard

Thunder

x1.0

x1.0

x1.0

x1.0

Light

Dark

Other

Limit

x1.0

x1.0

x1.0

x1.0

Worlds Fought

Fought By

(See List)

All

Rewards

HP 25 x2
Munny 1 x1
The Hellbat is a common Unversed enemy (almost moreso than the Flood). It has little HP, but almost impenetrable defense, as well as the annoying ability to leech health from the player, and tends to appear in swarms.
Design
The Hellbat is a purple-gray in coloration, except for its wings which are a deep red. Its eyes are unique amongst Unversed; they have a small curve before peaking in a sort of crested wave on the outer edges. When it opens its wings, you see that they have four sharp green claws on their wings. They also have two feet which are used to hang from ceilings.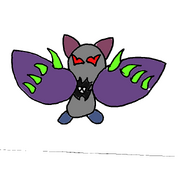 Worlds Fought
Trivia
Their name and concept came fron the Television Trope "Goddamned Bats"; small, annoying enemies which aren't strong but are hard to kill and very distracting.
Community content is available under
CC-BY-SA
unless otherwise noted.