GokaiOh
Origin
Kaizoku Sentai Gokaiger (2011)
Alias
Legendary Megazord
Type
Robot
Role
Summon
Weapon
Gokai Ken
Attribute
Greater Powers of previous Super Sentai teams
Status
Active
GokaiOh is the giant robot of the Gokaigers.
Components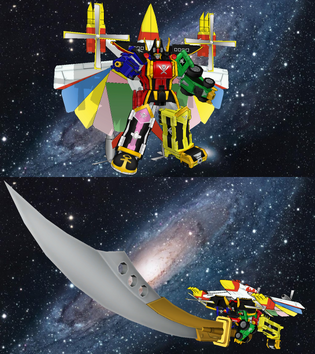 Greater Powers
Gokai Great Chi Bomber Hadouken- Combines the Dairangers' Chi Bomber with Ryu's Hadouken.
Buster OhRan GokaiOh- GokaiOh's combination with the OhKen Racer.
Twin GokaiKen Crash- Akin to OhBlocker's Twin BlocKen Crash.
Gokai Vector End- Akin to the Timerangers' Vector End.
Legendary Ressha- GokaiOh deploys the Go-Buster Ressha, Gokaiger Ressha, Goseiger Ressha, Shinkenger Ressha, or Go-Onger Ressha to combine with ToQ-Oh.
HulkBuster GokaiOh- GokaiOh's combination with the HulkBuster Robo.
GoRen GokaiOh V2- GokaiOh's combination with the Varidreen.
Community content is available under
CC-BY-SA
unless otherwise noted.