Fuuraimaru
Origin
Ninpuu Sentai Hurricaneger (2002)
Alias
Ninja Minizord
Type
Robot
Role
Summon
Home World
Earth
Weapon
Shuriken, Ninpuu Pinwheel
Attribute
Wind & Thunder
Status
Alive
English Voice
Eric Bauza
Japanese Voice
Hironori Miyata
Fuuraimaru is an ally of the Hurricanegers, and later the Gokaigers, whom he helped unlock the Hurricangers' Greater Power.
Karakuri Balls
#7 Fuurai Head-
#8 Fuurai Hands-
Combinations
Gourai SenpuuJin- Fuuraimaru's combination with SenpuuJin and GouraiJin, forming the head and fists.
Hurricane GokaiOh- Fuuraimaru's combination with GokaiOh.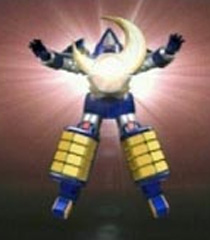 Community content is available under
CC-BY-SA
unless otherwise noted.