This article, Elmer Mouse (KH: F), is the creative property of Harold Roxby.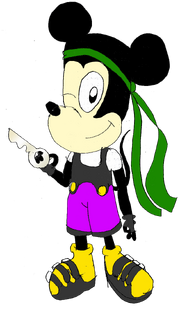 Prince Elmer Walter Mouse
 is the Prince of the
Disney Castle
and the Adoptive son of
King Mickey
in
Kingdom Hearts: Forever
. In that Fancomic,at 16 years of age, he and his mentor
Oswald the Lucky Rabbit
 always encounter the
Heartless Empire|Heartless
,
Organization XIII
and the minorly mentioned Corp. which is part of the Umbra (UW)|Heartless Empire called "
Phantom Blot Industries
".
First Debut
He made a debut in the 1934 Mickey Mouse episode Mickey Plays Papa. But poor little Elmer was an infant abandoned at birth at Mickey's House in that episode.
Forms
Pride Lands = Rattle Snake
Mushroom Kingdom = Common Koopa
Neverland = Wearing a Giant Panda suit
Bikini Bottom = Lobster
Man Village = Chimpanzee
Monstropolis = Dragon
Sugar Rush = Gingerbread Man
Halloween Town = Vampire
Repunzel's Kingdom = Bluejay
Radiator Springs = Monster Truck
Atlantica = Lobster
mobius = Mobian Mouse
Voice Actor
Rob Paulsen, just like PJ, Son of Pete.
Weaponry
The Pistol Key.
Abilities
Same as Vincent Valentine. Only without Monster Forms.
Community content is available under
CC-BY-SA
unless otherwise noted.