I trust you know what you need to do. What do you have to give...?

This article is in need of more information!
Help improve it by adding in what you know, or look at the request below for specific details.

This article is lacking: Everything.
I'm missing a few memories... Someday, it will be back!

This page contains a few red links.
You can help the Kingdom Hearts Fanon Wiki by making pages for them.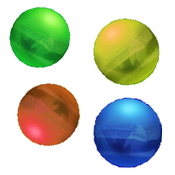 The four Elemental Crystals are key items in the story of Kingdom Hearts: Distant Bonds. They represent the four elements; green representing Earth, yellow representing Air, red representing Fire, and blue representing Water. They are actually the four spherical crystals from Twilight Town's Struggle Trophy, which have found their way to Annwn. They are scattered across the regions of Annwn, and The Dark Entity forces Llew to gather them. It is revealed at the end of Kingdom Hearts: Distant Bonds that they are the key to unlocking the world's Keyhole, which in turn connects Annwn to the Darkness and Kingdom Hearts.
Community content is available under
CC-BY-SA
unless otherwise noted.