This article, Deathiko (Rapunzel) (KH: F), is the creative property of Harold Roxby.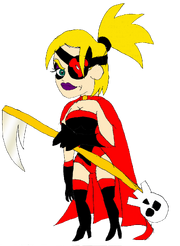 Rapunzel
, no longer Princess of her own Kingdom, had a sadistic split-personality since her exile, she named it
Deathiko 
after the dead Witch
Gothel
. It started 2 years
(after Tangled Ever After)
when they got Married after Mother Gothel's death. Her father, the King of her land, intrefered their 2nd honeymoon during her wedding anniversary with
Flynn Rider
by killing him after
Pete
lied to the King about Rapunzel betraying the royal family with a Bandit and being Gothel's killer
(it actually was Flynn, but he had to do what's best for Rapunzel in Tangled)
. He even banished her from a kingdom where she was born.
In Traverse Town, Rapunzel sat on a bench in the streets of it's Square,  weeping over being the outcast of her home while her horse Maximus conforts her. Waternoose, with Randall, currently working for Phantom Blot Industries after Waternoose was bailed out of Monstropolis Prison by Lady Tremaine  and Randall was found in Louisiana by the Mad Doctor, walking towards her and told her about helping helping her get her revenge on her Parents. Rapunzel thought she was forced to agree. After joining the Phantom Blot Industries, Dr. Frankenwagon and the Mad Doctor forged her cut-out magic Hair into the Death Key giving it to Rapunzel (or Deathiko now). Then She, under the Phantom Blot's orders, killed her Parents completely (not that she wanted to but she didn't have a choice) and took over the her Kingdom as Queen, making Waternoose her royal steward. Her daughter, Jeane, did not like the master plan she had, so Deathiko casted her out of her kingdom, so Jeane's being raised by Kim Possible as her adoptive daughter, now. But someday, though, she might betray the Phantom Blot for the Heroic deeds.
Worlds of Change
Pride Lands = Lioness
Bug's Life = Spider
Bikini Bottom = Mermaid
Atlantica = Mermaid
Sugar Rush = Cy-Bug
Monstropolis = Werewolf
Halloween = Werewolf
Petroplis = Cat
Sunnydale = Doll
Man Village = Tigress
Nottingham = Fox Merry Woman/Princess of Prince John
Weaponry
Her Death Key
Abilities
Voice Actress
Mandy Moore (Rapunzel)
Elizabeth Gilles (Deathiko)
Community content is available under
CC-BY-SA
unless otherwise noted.