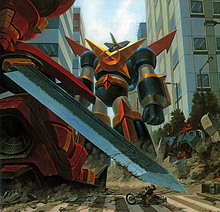 "Choukou Senki KikaiOh!" is the theme of KikaiOh in Tech Romancer and Superhero Keyblade Wars. An english translation was done for the "TV Size" CPS2 version from the former, in addition to the anime quality full size version featuring in the latter.
Romaji
English version
Udeni idaku, Seigi no akashi,

Afureru yuuki ga, Kiseki yo yobuno sa~!

Kotetsu no senshi, inochi omoya se! 

Emblazoned on your chest, Is the mark of Justice!

Overflowing with Courage, A Miracle has awoken!

The steel warrior, burning with the flame of Life!

Tattakai Kikaioh,

Shinjiru mono wa,

Yume to kibuo to, yuujo to,

Muteki no chikara de,

Tatta-ka-u mono no na wa... 

CHOUKOU SENKI KIKAIOH!!!

Now fight, KikaiOh, for those who believe in you!

Dreams and Hope and Friendship are the source of your Invincible Power! The one who fights for us is called,

Choukou Senki KikaiOh!!