Battle Fever Robo
Origin
Battle Fever J (1979)
Alias
Battle Fever Megazord
Type
Robot
Role
Summon
Home World
Earth
Weapon
Lightning Sword, Swordz Fever, Fever Axe, Stick Attacker, Cane Knocker, Attack Lancer
Status
Active
Battle Fever Robo
is Battle Fever's giant robot, and the first giant robot in Super Sentai. It has the appearance of a samurai, and it has a wide variety of weapons.
Battle Fever Marveller
Battle Fever Robo jumps on Marveller and rides on it like a hover-board. Battle Fever Robo wields both it's and Leopardon's swords, unleashing far-ranged energized slashes, and can also execute the Marvel Fever Finisher, an energized cross slash performed while flying toward the opponent at max speed.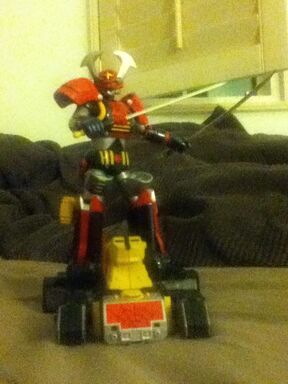 Community content is available under
CC-BY-SA
unless otherwise noted.